Celebrities and TikTok stars are being impacted by the concerning rise of deepfake sexual content.
This includes images of popular TikTok stars such as Addison Rae Easterling, Charli D'Amelio, and Bella Poarch.
Deepfakes are highly sophisticated manipulated media where an individual's face or head is digitally grafted onto someone else's body.
According to an NBC News review, these counterfeit videos and images are being widely disseminated, garnering millions of views despite violating Twitter's policy against nonconsensual nudity.
The impact and scale of this problem are demonstrated by a particular deepfake featuring Easterling's face on a sexually suggestive video, which had been viewed over 21 million times.
Although the user responsible for the post claimed to have removed it after facing backlash, the account continues to share sexually provocative content using authentic videos of female celebrities, attracting similar attention.
The prevalence of deepfakes targeting the three TikTok celebrities in pornographic contexts is strikingly higher than those aimed at mainstream actresses like Emma Watson, who are also common targets of deepfakes.
This alarming trend underscores the susceptibility of prominent female internet celebrities to such disturbing online exploitation.
While Twitter suspended six out of nine accounts sharing pornographic deepfakes after being contacted by NBC News, some explicit content, including videos featuring Poarch's and D'Amelio's likenesses, remains online.
Despite previously suspending accounts for posting deepfakes, Twitter's efforts to police such content have been criticized for being ineffective, especially under Elon Musk's leadership.
The platform's two policies pertaining to deepfakes—banning the superimposition of a person's face onto another's nude body without consent and regulating synthetic or manipulated media—have come under scrutiny for their inconsistent application.
The New York Times reported that Twitter's inadequate content moderation has led to an increase in hate speech and pornography on the platform, leading advertisers to abandon the platform.
Moreover, following a significant layoff under Musk, including those in trust and safety teams, concerns over Twitter's enforcement of its rules have increased.
While searching the TikTok stars' names on Twitter yields a mix of content—from fan accounts posting authentic, non-explicit images and videos, to hardcore pornography and deepfakes—some accounts seem to post the same deepfakes repeatedly, directing users to other platforms like Discord or Telegram, where such material is freely shared.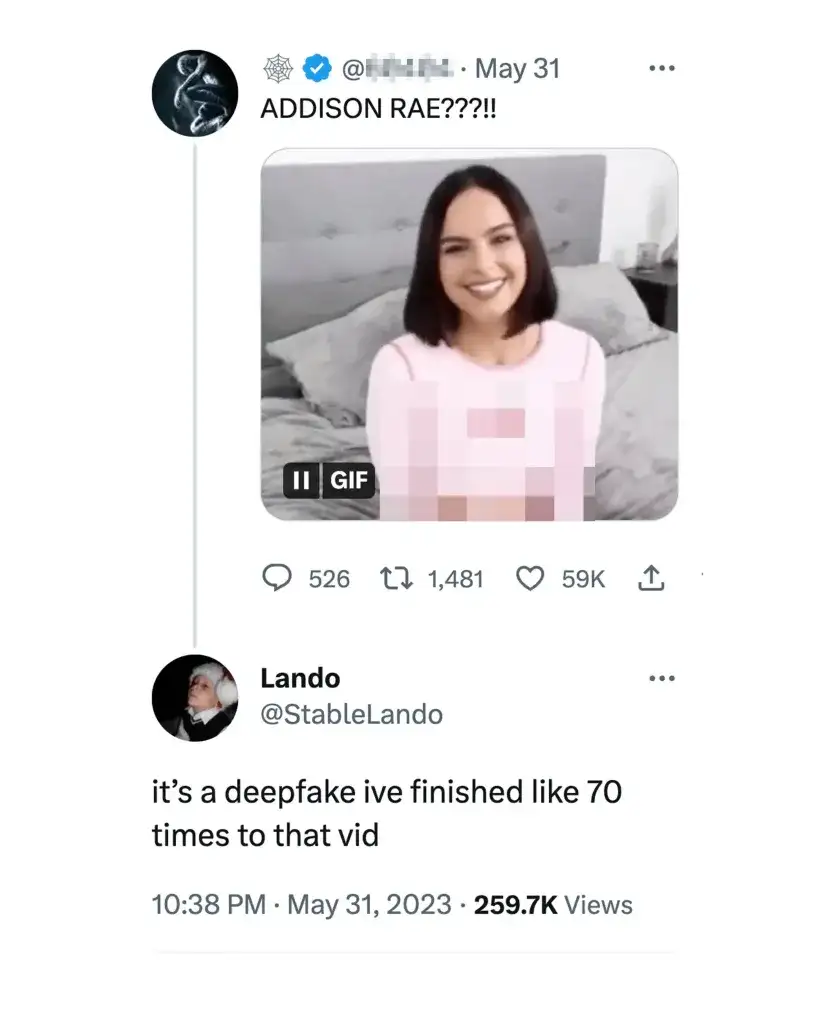 However, Discord affirmed its community guidelines' prohibition of promoting or sharing nonconsensual intimate materials and assured its swift action against such content.
The article also touched on the legislation against nonconsensual sexually explicit deepfakes passed in some U.S. states, the U.K., and Australia.
However, victims, including celebrities and influencers, have struggled to find legal recourse due to the ability to upload these images anonymously from anywhere.
Scarlett Johansson, another deepfake target, stressed the inadequacy of current remedies for victims, highlighting the potential reputational damage for lesser-known victims.
In conclusion, the widespread distribution of nonconsensual sexually explicit deepfakes on platforms like Twitter is a rising concern that is yet to be effectively addressed.
This highlights the need for more stringent content moderation practices and legal measures to protect individuals from such disturbing online exploitation.
This is not the first time we have seen incidents with deep fakes:
For more information on deepfakes and celebrities, we suggest watching the video below.